10 Years Later, Octomom and Her Kids Are Back. Check Them Out!
Remember Nadya Suleman? More famously dubbed as Octomom, the woman who singlehandedly swept over national television and the internet by giving birth to 8 wonderful babies all at once back in 2009? It's been 10 years since this sensational birthing event…where are the kids now?
History in the making
It was a sunny January day in Bellflower, California when America's only second full set of octuplets were born alive and healthy by a 34-year-old single mother named Nadya Suleman.
Reporters, paparazzi, and flocks of media outlets gathered outside the Kaiser Permanente hospital all hoping to get the first glance and the freshest scoop about this miraculous birth. This one-of-a-kind pregnancy also required a one-of-a-kind delivery—setting up a full-house—the delivery was a scheduled cesarean procedure that involved a total of 46 medical personnel. And just like a true show in the making, the procedure was practiced twice by the attending personnel so as to get familiar with probably their most tedious cesarean procedure ever…
Wolrd-famous babies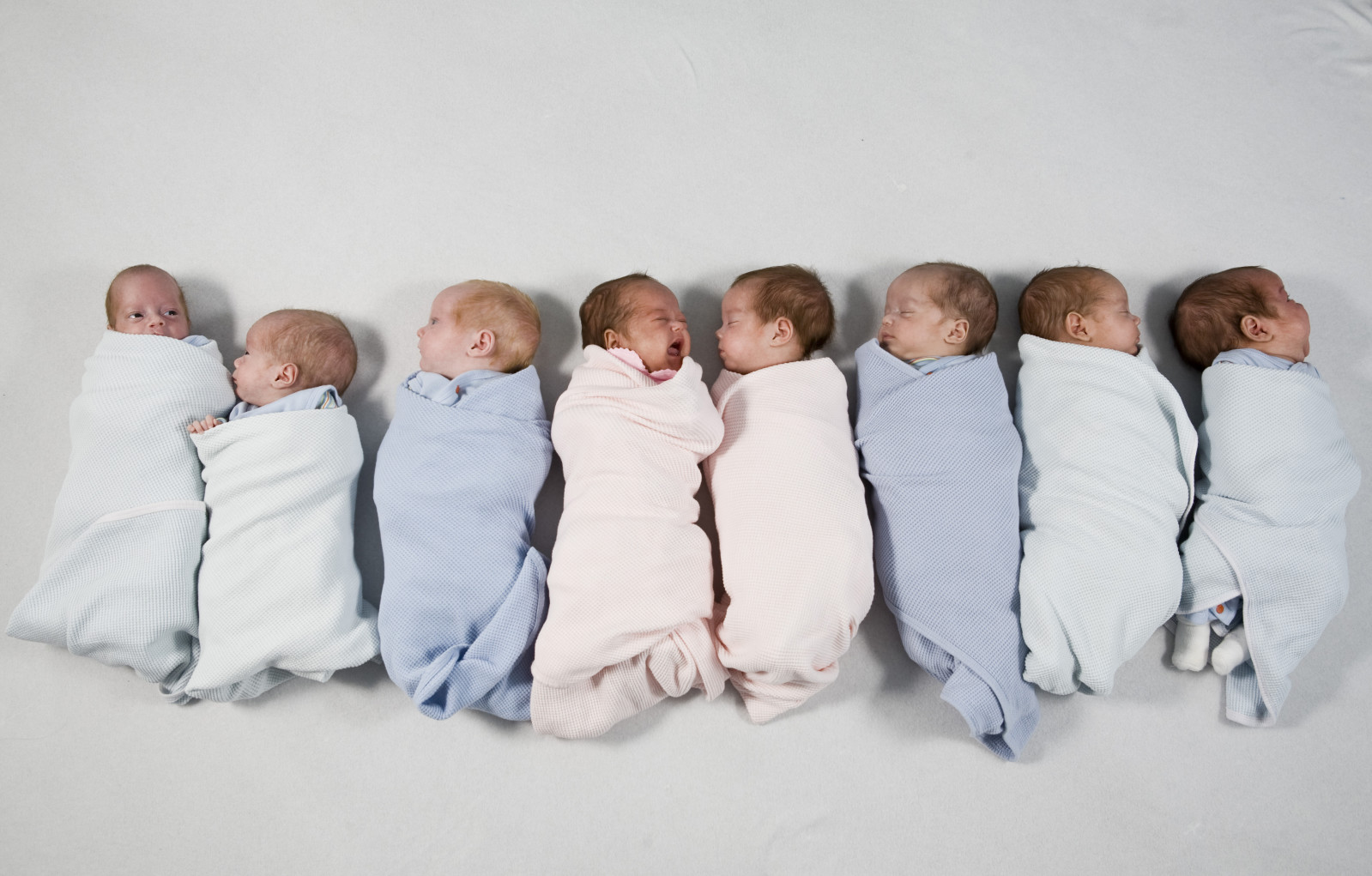 The loud, first cry of a bouncing baby boy was heard at 10:43 AM followed by a second crying baby girl at 10:44 AM followed by another cry a minute later…and over the course of 5 minutes, 8 crying babies filled the hospital room. It was a huge success! The octuplets were successfully born in stable conditions.
News traveled like lightning and word got out to the world even before the babies were wrapped in cozy, cotton sheets. The birth of the octuplets—Noah, Maliyah, Isaiah, Nariyah, Jonah, Makai, Josiah, and Jeremiah marked history and the beginning of their mother's new life as Octomom. But before the craze struck her, who was she?
Life before children
Nadya Suleman who was born to immigrants—an Iraqi father and Lithuanian mother—was an only child who craved brotherly and sisterly affection all her life. So, she promised herself that one day, she will have a family of her own, too and have a house full of children. Little did she know what her future holds for her…
From a young age, Nadya was determined to have a family, so by the time she graduated high school, instead of going to college like other girls her age, she took the road less traveled…and went on a quest to become a single mom. Not for long though, she found a man who could be her potential partner in building her dream family, Marcos Gutierrez. They fell deeply in love and decided to get married. The two can't wait to get started with family life and make children, but life just isn't that easy…
Career vs Family
In 1999, the same year she got married to Gutierrez, Nadya earned her psychiatric technician license from Mt. San Antonio College and started working at a mental facility in Norwalk, California. She dealt with mentally challenged patients daily and it is as exhausting as it sounds, which greatly affected Nadya's married life.
The couple struggled to make time for each other but they still eagerly tried to conceive a child but was proven more difficult by Nadya's present working condition. Then, as if Nadya's life wasn't stressful enough, things got even more out of hand…
Another setback
A chaos struck the mental facility that Nadya was working at and she was right there in the middle of it all. One night in September 1999, 20 patients of the Metropolitan State Hospital started a riot where Nadya tried to interfere and calm the patients down, but unfortunately, it was a mess she couldn't handle.
In the midst of the chaos, one of the patients flipped over a wooden desk and it landed right on poor Nadya's back, causing her to suffer severe injuries and back pain. Nadya filed for workers' compensation and was able to collect more than $165,000 in disability payments. Throughout all of those drawbacks that year, still, Nadya's hope of having children never faltered, so she and her husband tried and tried over and over again, but to no avail. What was the problem? Or to put it properly, WHO was the problem?
Marriage on the rocks
Looking to get to the bottom of their childless marriage situation, Nadya and Gutierrez went to seek medical and professional help. They visited doctor after doctor and received a number of tips they can do to conceive. But even after all that, nothing was working, and Nadya started losing hope and feeling frustrated.
When the numerous consultations didn't work, the couple decided to undergo some tests…and as it turns out, nothing was wrong with Nadya, it was just that Marco was sterile. Things got a little harder for the couple after finding out about this news, especially because Nadya was still keen on having children. And she found a way to get it, but it would cost her greatly…

The IVF option
IVF or in vitro fertilization is a procedure where an egg is fertilized outside of the woman's body, usually in a test tube—was the solution that came to Nadya's mind. Conservative Gutierrez wasn't so keen about the idea, as he believed in conceiving children naturally…so the couple ended up filing for a divorce, being unable to agree on the same thing.
Newly divorced and leaving her married life behind, something hasn't changed for Nadya—her strong desire to have children. So she continued to consider doing the IVF on her own, but what she needed to understand was that it's no piece of cake and it involves a lot of risks…
The first attempt
Finally making up her mind on doing the IVF, Nadya was walked through the whole process, it wasn't going to be easy and it wasn't going to be free, either. But none of that changed her mind, with still some of the money left she got from her disability payments in her 20s, she was funded.
The process of IVF involves planting multiple eggs to fertilize, so there was a possibility that more than one egg could make it through and get more than one baby. Some women might be skeptical about this, but not Nadya, oh how she wanted a big family. So she underwent her first IVF procedure…and voila! It was a success! After years of trying, finally, Nadya Suleman was holding her own son, right in her arms. People might be thinking, now she's happy, she got what she wanted—a child! But Nadya wanted more…
Half a dozen children
A year after her eldest son was born, she had her first daughter, and seeing that the IVF worked so well for her, Nadya's thirst for more children strengthened. She went through another IVF procedure, giving birth to a set of fraternal twins and two more children! At 38, Nadya Suleman was a single mother of six successful IVF children. Now, having six children already looks like a lot and it is. Imagine feeding and bathing them, then sending them to school, playing, and putting them to bed, but supermom Nadya doesn't seem fazed by all of these because what she did next was just totally unbelievable…

One way or another
It was the year 2008 when Nadya learned that her six leftover eggs from her last treatment were still frozen and knowing her itching yearning to procreate, she didn't want them to go to waste. She consulted with the doctor who was in charge of all her previous procedures, Dr. Michael Kamrava, and asked him if she could do another IVF, but this time implanting all six eggs on her all at once! Implanting that many were already far too much but the doctor did something even more baffling than Nadya's request…
Going off the charts
Dr. Kamrave implanted not only Nadya's remaining six eggs…but twelve eggs in total. Twelve! That's 10 eggs more than the recommended number to be implanted. It was such a surprising and dangerous move coming from a doctor and hearing that kind of news would send any person into some sort of shock or panic because of the risks it would entail. But Nadya was prepared for it.
Octuplets on the way
Another miraculous thing happened to Nadya that went beyond usual medical conditions and expectations. 8 out of the 12 embryos stuck, she was conceiving 8 children at once, octuplets! As soon as the media got hold of this news, everybody's eyes were on Nadya and her unborn octuplets. People had different reactions—they were surprised, happy, confused, amazed, angry, and most of all curious. What would happen to her? What would happen to the babies? Will they survive? Will they live? Will they die prematurely? What will happen next? Everybody wanted to know…
The birth of Octomom
The octuplets were born healthily and successfully on January 26, 2009, and the media went crazy. Everybody wanted in on the news, they all wanted to know who these miracle babies were and they wanted to know who the mom was. Thus, along with the birth of the octuplets came the birth of Nadya's new public persona—Octomom.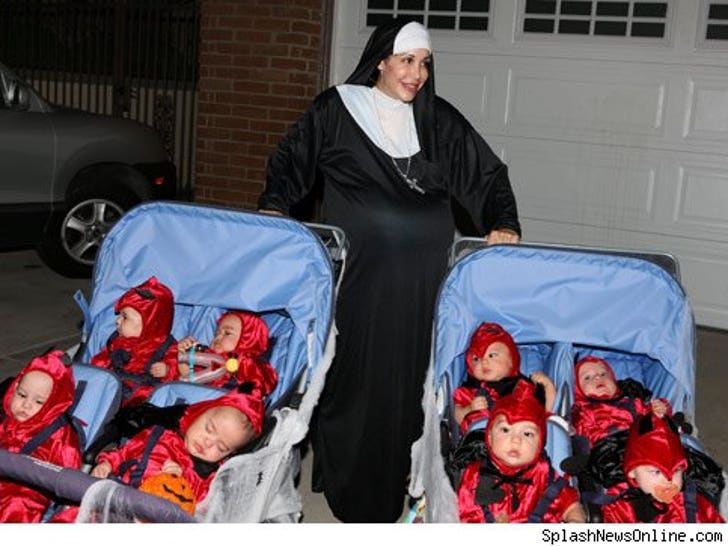 Tabloids and even major news outlets gave her the nickname, Octomom and that settled her to becoming a household name. With the birth of her octuplets and in addition to her six other kids, Nadya was now a single mother of 14 children. Life suddenly became like a reality show for her as media and paparazzi followed her everywhere, publishing snaps of her on newspapers and the internet, leaving her every move to be scrutinized by the world. Not everyone was pleased with what she's done, so Nadya received negativity from people, even receiving death threats. But just how much can one person take?
Taking a toll on her
Raising 14 children alone was stressful enough and topped with the whole world's attention and criticism, it's bound to break anyone, including this supermom. Nadya struggled to keep everything together, she juggled with being a mom, a breadwinner, and a public figure. She had critics disapproving of her every turn, waiting for her to break. Instead of receiving comfort and support, the world gave Nadya the exact opposite…
Home trouble
Along with more people looking into their lives came more rumors that were designed to tear them down. Different kinds of rumors began circulating on the news and the internet, with one saying that Nadya neglected her children and that she wasn't being a good and responsible enough mother to all 14 kids. The speculation went too far that Child Protective Services visited Nadya's home and inspected them. The rumors turned out to be untrue as the inspection went well. But what Nadya didn't know is that there's another one coming their way and it's something big…
Jumping jobs
After her visitation from the Child Protective Services, another issue that concerned her home arose, and it came from her own landlord. Apparently, Nadya violated leasing terms and her landlord took it to the media, so once again, the media lashed out on Nadya. And what's worse is that they got kicked out of their house.
Nadya needed to think in her feet, she can't be homeless, not when 14 little children are trudging behind her. That's when she realized she needed money, big and fast. So she ventured on different jobs, businesses, entered the music scene and even did some pornographic films—which actually earned her a prestigious porn industry award equivalent to the Oscar's. But even with all those jobs, it felt like nothing was changing, it was all superficial, until one day…
Turning a new page
Nadya was in a club in Florida back in 2013 when she saw a very tall man walk straight towards her direction and looked straight into her eyes, took her hand, and told her firmly, "You don't have to do this." And it was at that moment that Nadya came back to her senses and decided she needed to change and get back to real life.
She started by changing her first name Nadya to Natalie and then leaving show business behind. Natalie looked back and contemplated her decisions in the past, she acknowledged her mistakes and for not properly thinking it through, but she was still sure of one thing…she does not regret one bit of it.
Finally at peace
Years after her recovery, Natalie finished her college degree, got a new job, and found a new loving home for her children. Ever since turning on a fresh page in her life, she felt at peace. She spends most of her time attending to her 14 growing children, focusing on their needs, especially since they were all growing so fast–Elijah (17), Amerah (16), Joshua (14), Aiden (12), 11-year old twins Calyssa and Caleb, and the octuplets who just turned 10 this year. Once upon a time's the media's favorite, the 8 babies from Octomom, how are they doing now?
10 years and thriving
Time flew by so fast and in a blink of an eye, the delicate babies are now 10 years of age! And just to let the world know, they are doing well, in fact they are doing REALLY well. The octuplets were raised by Natalie on a strictly vegan diet, so as to keep them healthy and away from any more complications that may arise. All 8 kids are active in school and sports. They even go the extra mile and do good for their community, participating in charity events and welfare activities. Natalie has taught them to be a good example for other people and that they need to learn how to rise above difficulties, just like how their mom did when they were younger.
A most unique family
Natalie Suleman's family will always live under public recognition and scrutiny, you can't help it when the world's been watching you from the day you were conceived, or in the Suleman's case, implanted.
After the rollercoaster ride that she had been through, Natalie only wants the world to know one thing now—that they are living, fighting, and loving. Her family is not perfect, she won't always know what could happen next, but she is absolutely sure of one thing—they are ready to take on another decade and more, together, as one big family.