Find Out Why This Poor Mother Got Sued By A Pastor After Winning Powerball's $188 Million Grand Lotto
Winning the lottery is like a shot to the moon, it's a one in a million chance. In fact, there are only a few people in America who won notable amounts in the lottery. It's a game of chance, you fill in the numbers you believe are lucky and powerful enough to get you the winning ball, slide it in, and pray for all the luck to come your way. Well, Marie Holmes is one of the few lucky ones who got their wishes answered and won the Powerball lottery jackpot worth a staggering $188 million. Then again, winning big money comes with its highs and its lows, but with Marie why did it seem like her highs were short-lived and her lows never-ending?
A flat broke mother
Before winning a gargantuan amount of money, the 27-year-old Marie Holmes was a flat broke woman who lived in a trailer house in North Carolina with her four small children. She worked tirelessly every day and every night to provide for them, especially because she just recently discovered that one of her children was diagnosed with cerebral palsy. She was currently working low-wage jobs at McDonald's and Walmart trying hard to make ends meet when she decided to take a chance in the lottery. Hoping that her life would change…
High stakes
In 2015, the grand prize for the Powerball lotto reached a whopping $564 million so without a second thought, Marie ran to a gas station nearby and purchased a lottery ticket. She did it out of desperation, she said, tucking in her high hopes of changing their lives, her dreams of having a better future, and prayers of luck coming her way to the lottery ticket she filled up. After buying the ticket, Marie continued on with her paycheck to paycheck life, serving customers at McDonald's and Walmart, not knowing that in the next few days, her life will open up a new chapter she's never expected…
Winning big
When the Powerball Grand Lotto winners were announced, Marie never expected in a million years that her name would be called. There were reportedly two other winners who won the draw, so the $564 million grand prize was divided into three, and Marie got her share of $188 million…still a hefty amount of money for a low-wage commoner to receive in a flash. Marie was excited to bring home her $188 million check, but she didn't know that there was a catch.
Taxes, taxes, taxes
Here's the thing about lottery prizes, it's still taxable. And you know that the bigger the money, the bigger the tax. So just imagine how much tax Marie had to pay for winning her Powerball prize…
If Marie's winnings qualified for the highest tax bracket, the government may take 39.6% plus North Carolina's state tax of 5.8%. Now that's a LOT of deductions from Marie's million-dollar winnings. Plus from the beginning, her supposedly $188 million cash already shrunk to $127 million because she was asked to choose between getting an instant but deducted lump sum or the full amount but in installment. Marie chose the former as she wanted to make use of her money immediately, which, as it turns out is the beginning of her bad decisions.
Onto greener pastures
Marie's first order of business was to buy a new house and a car for her family. She bought a grand mansion and expensive cars and moved into a new neighborhood, leaving behind her trailer park days and never looking back. This move by Marie is actually not advised by financial advisors, as they believe that when winning or acquiring a large amount of money, one should keep a low profile first, stay back, think and plan out financial ventures carefully so as not to rush into things or make rash decisions. But nobody could blame Marie, why wait and stay in a barely livable trailer home when you got a million dollars waiting in your bank account?
Plans for a bright future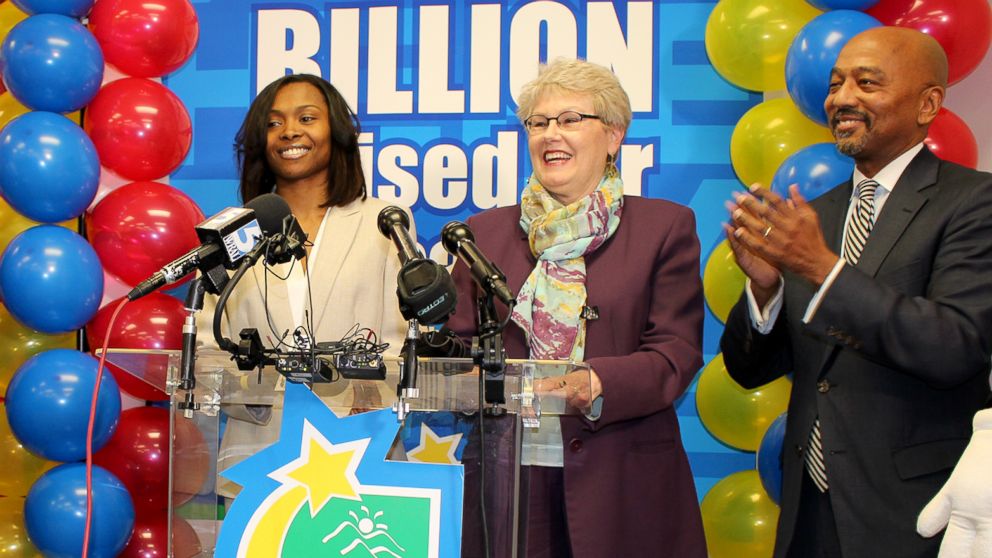 Marie Holmes was a frequent churchgoer even before she won the lottery. She always went to church every Sunday with her mother and her kids. So it was no surprise that she voluntarily gave a generous donation to the church after winning her great fortune. Even with her seemingly rash decision to immediately purchase a big house and expensive cars, Marie did not forget to do the most important thing—set up a bright future for her children. She set up a fully-funded college fund for all her children and put away money for her family's savings. Marie's financial decisions seemed to all be so good and her family, friends, and the public adored her for it. But the next choices she made had the public question her and put her in the middle of a controversy.
Bailing out her baby daddy
Just like any woman, Marie had found a man who left her heart beating fast and gave butterflies to her stomach. And that man came in the form of Lamar McDow who also goes by his street name, Hot Sauce.
Unfortunately, as fate would have it though, McDow was notorious in the drug scene. Their relationship goes way back before Marie won the lottery and even then, McDow was already involved in the dirty and dangerous world of drugs. He has been imprisoned several times under different charges and Marie was the one who bailed him out, not once, not twice, but thrice! She had to bail him out on three different occasions. And the bails were not cheap, they cost $3 million, $6 million, and $12 million, totaling to $21 million!
Marie threw that much amount of money to get her boyfriend out of jail. People were asking why she kept doing it when clearly, McDow didn't know the concept of repentance and moving forward from his crimes, well the answer was simple—she was in love with him and he was the father of Marie's youngest kid. Of course, she wanted the father of her child to be a free man. When news of this situation broke, Marie hit the headlines again but this time in a different light.
Unexpected behavior
According to Marie's close friends and family, she has always been a grounded person. Being a low-wage worker at her two jobs, a struggling single mother, and a trailer park resident, she knows how hard it is to make money and knows the value of each and every penny. So her family and friends never worried that money could change Marie but they turn out to be wrong and shocked because Marie just kept on making one bad decision after another…
Holmes gets charged
Bailing out her boyfriend for using and selling drugs is one thing but getting involved in a drug crime herself is another. In the most recent arrest of her boyfriend involving drugs, police authorities visited their house for inspection and caught Marie Holmes red-handed with marijuana. Marijuana is legalized in some specific states in America, but not in North Carolina. So, Marie had to face serious charges in possession of marijuana. Seems like Marie's life just keeps getting worse and worse each passing day.
Hot Sauce to the rescue
Amidst all the controversy and the public putting Marie in a bad light, her boyfriend McDow aka Hot Sauce stood by her side and even went to the media to defend her. McDow wanted the people to know that Marie was a grown woman who knows what she's doing and that she was the only one who has the right to do whatever she wants to do with her lottery money. This was quite right, but all of Marie's decisions so far only led her to bad situations and add up to her long list of regrets.
Unfriendly neighbors
After spending $350,000 for building a grand property in an upscale neighborhood in North Carolina, Marie thought they would experience a better living condition because the neighborhood seemed so beautiful and a completely far cry from where they grew up. But boy was she wrong. The neighborhood was dominated by white, old-money people so when Marie and her family moved in, judgemental and hurtful glances were thrown their way instead of welcoming smiles. Marie stated that she felt racism from her neighbors after learning that some of them would set up cameras to monitor them and their driving speed, ready to report them to the police for the tiniest thing they find wrong. Realizing that everything in her life is turning upside down, Marie decided to change and go back to her good old ways…
Take me to church
After her marijuana arrest, Marie went back to her church, the Pleasant Hill Missionary Baptist Church and donated $700,000. The church was so grateful for the donation and promised to use the money well, for the repairs of the church and to help the community. Marie and her family had been going to this church for decades and even called it her home church so she felt good about her donation. Feeling like she had started to put her life back on track again, Marie wasn't expecting another disaster to strike. And what's more, is this might possibly be the worst one yet…
Pastor Kevin Matthews
One fateful day, a pastor from outside of the Pleasant Hill Missionary Baptist Church suddenly came into view…
Pastor Kevin Matthews claims to be closely affiliated with Marie's family, regularly visiting them in their home to minister them and even helping McDow set his life straight. He appealed to the media to express his disappointment in Marie because apparently they had a verbal agreement that Marie would donate $1.5 million to his church. The pastor was planning to build a retreat facility with the supposedly agreed-upon money, but now he couldn't because Marie didn't pull through with her promise. He already started searching for land and talking to contractors and property owners, then suddenly his expected budget didn't come, what was he supposed to do?
Left in distress
Pastor Matthews expressed that the incident has left him in so much distress and anxiety. He didn't know what to do with the project he already started, he even went so far as spending his own money to pay for the people he already talked to. He also released a statement saying, "The bottom line is…I just want her to do what she said she was going to do. I want peace and to do what God told me to do. I want her to do what she said she was going to do. I really feel like a warrior for Christ and people need to be accountable." Matthews was so set to have Marie accountable for her supposed promise, so he escalated things…
The $10 million lawsuit
The pastor took his complaints to the court and filed a $10 million lawsuit against Marie because the situation has led him into making financial commitments he couldn't fulfill and has apparently made him double the doses of his anxiety and depression meds. Marie's side, on the other hand, denied all allegations and stood by their statement that Marie never made such a promise to the pastor. The lawsuit took another toll on Marie and you would think that after all the chaos she had been through, she's gonna take it lowkey and live a life away from the cameras and the spotlight. But no, because she did the exact opposite, making another big decision that had the potential to fix or ruin her life…
Fixing her life
Hoping to seek advice and guidance on her second chance at fixing her life, Marie decided to appear on a reality show on Oprah Network called Iyanla: Fix My Life. If you're not familiar, it's a show that features relationship expert, motivational speaker, life coach, and bestselling author Iyanla Vanzant. In the show, Marie opened up her life, her rags to riches story, and the bad decisions she has made along the way that led her to join the show. But instead of getting enlightenment, being on the show gave her the opposite.
Secrets revealed
In one of the show's episodes, Marie sat down with her mom, Fontella for a heart-to-heart talk to try and resolve some family issues they've had in the past. And Fontella thought that was the right moment to drop the secret she had been holding on for so long…Apparently, Marie's winning lotto numbers which she thought were just random numbers weren't so random after all because her mom picked the numbers.
"I kept dreaming about your brother that we lost," Fontella tells Marie. "His birthday; he was the third child; he'd have been 25 that year. And those were the numbers." When asked why she didn't claim the prize for herself, Fontella said that was what she wanted, for Marie to have a better fortune and be able to set up a good life for her family. Just the words you would expect from a good mother. On the other hand, though, some of Marie's relatives were still unhappy…

Family wars
Punches just kept on coming straight towards Marie's face and this time it's coming from her own blood. Some of her relatives started publicly claiming that Marie stole the winning lottery ticket from their grandmother. Money really makes people go crazy. Marie is then reminded of what McDow used to tell her in the beginning, "When money comes, there are more problems". And it's been proven many times throughout the run of her lottery-winner life, with most of the problems coming from McDow himself and it won't seem to end any time soon…
More boyfriend trouble
Just like her relatives, her boyfriend, McDow just kept on repeatedly disappointing her and breaking her heart. There was a video that circulated the internet showing McDow cheating with other women. News also broke that Marie paid off McDow's mistresses just to keep him to herself. This was just too much for Marie plus the fact that McDow was once again involved in a drug crime, but this time an even more serious one. He was headed back to spend seven years in prison for conspiracy to distribute heroin. What a whirlwind life it was for Marie Holmes, but ultimately, what did she do after going through all of life's lemons?
The Marie Holmes Foundation
Despite the never-ending storms and drama that was thrown her way, Marie never wavered on her original mission to provide a better life for her family, especially her children. And she decided to extend that mission to her community that's why she built the Marie Holmes Foundation, with a $9.7 million initial investment. The foundation focuses on underprivileged children and families who don't have enough means to get by. She is happy to help the unfortunate with the money she made because her life used to be like theirs, but because of a stroke of luck, it changed.