Keep These 40 Tacky Things Out Of Your Living Room!
The living room is arguably the most important part of the house. Especially when it comes to decorating. Why? Because the living room is the first thing guests see when they enter your home. Aside from that, the living room is also where friends and family gather most of the time, next to the kitchen. It's where you binge-watch your favorite movies or TV series. It's where your family sit together and talk and have a family game night. It's the reception area for your lovely house guests!
Your living room should represent who you are as a person or as a family. That's why it's important to put much thought when decorating it. Sure, you can put anything you like. Don't let anyone tell you what to do. It's your home anyway. But there is a mathematics to decorating. Some simple rules to guide every homeowner what looks good and what doesn't. 
If you like an elegant vibe, choose elegant furniture. If you like it more vintage and classic, pick pieces that ARE vintage. Or if you like something erratic, do it. But some pieces of decor have been so overused through the years that it has become well…tacky. No problem if you like tacky items, go for it! But if you don't, then you should check out our list of the tackiest living room and house decor EVER! 
Fake plants
There's nothing more insincere than filling your house with fake plants. It's like you're just pretending to LOVE plants. There are sooo many indoor plants available nowadays so take your pick and start putting life to the room. Although having fake plants could seem a lot easier, it also makes your home seem lifeless. With real indoor plants, you can get the real benefits of having plants near you and enjoy a bit of gardening. 
Plastic couch covers
Now, why would you buy a couch when you don't want people to sit on it? Putting plastic on your couch makes your living room look like a display set. Or worse, a crime scene where you can't touch anything! This also makes staying in the living room uncomfortable. Imagine having guests over, and they see the plastic? That screams uninviting. 
Shot glass collections 
Pretty sure everyone around you knows how big of a party-goer you were back in the day. No need for you to put a permanent display of it in your house. Plus, if you're a grown adult, this piece just makes you look like you're stuck in your teenage years. Try collecting something more mature than party shot glasses. 
Ruffled furniture skirts
Unless you're living decades behind or hiding vampires, then you shouldn't have ruffled furniture skirts. First, they're so outdated that even if your house is full of modern gadgets, these ruffled skirts will pull them down. Second, they're not really that great when it comes to keeping things clean. Since most of these skirts are floor-length, they cover floor dust. If you're not going for an older feel for your home, then get rid of these things!
Barn doors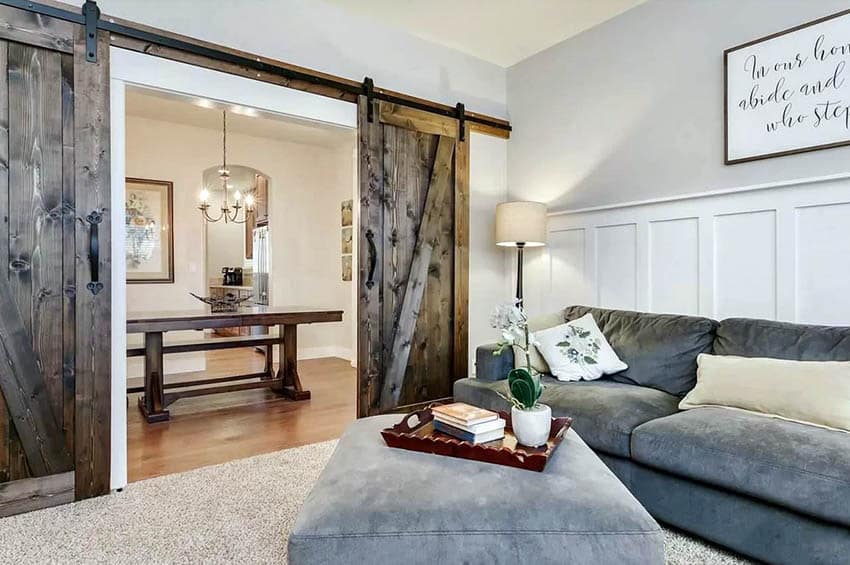 This trend was so weird. Why would anyone put a barn door right smack in the middle of their house? It looks like someone got drunk, stole a barn door, and put it in the house. But this trend has become so popular, especially on Pinterest. Some people put barn doors in their homes to get a rustic feel. But if not done right, it's just a mess. Try doing a bit of research and getting expert opinion before adding a barn door to your home. Some house owners were successful in meshing modern and barn doors in their house. So maybe you can too!
Temporary furniture
Temporary furniture is all fun and games until something breaks. Sure, you wanna try a hand at DIY? Do it in smaller pieces, not with furniture where you put your TVs or sit down. If you really want to make your DIY furniture, then be sure to do it properly. So they won't feel and look temporary. 
Futons
Futons belong in two places: the bedroom and your college dorm. Yeah they can be very comfortable, but they don't look good in the living room. If you're short on the budget for an actual couch, don't worry! There are furniture shops that offer discounts and deals. Or if you're up for an adventure, you can buy pre-loved couches in garage sales. Just make sure they're in good condition and a lot less tackier than futons. But if you have become attached to futons, there are sofas with futon designs. So check those out. 
Cheesy quote frames
Ugh. Aren't we all past the "Live, Laugh, Love" era of decor? I'm pretty sure there's more inspiring words than those three, too. Cheesy quote frames have been so overused in homes and cafes that right now, it hurts just looking at them. Maybe those words give you inspiration, but I'm sure you can choose other ways to get that inspo without the cheesy frames. It's better to put your children's artworks up (no matter how bad it is) than those tacky quotes. 
Tiled counters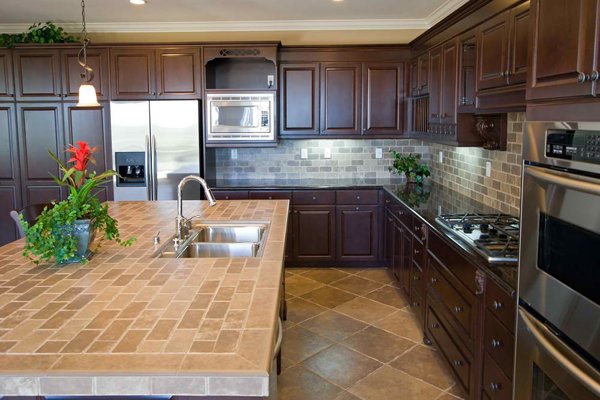 I don't get the point of tiled counters. What are the tiles for? It just makes cleaning the counter harder. Imagine getting food stuck in those little tiles? Hard pass. Stick to flat surfaces. Not only will it make cleaning easier, but it's also a good background when you take yummy food pics!
Cliche art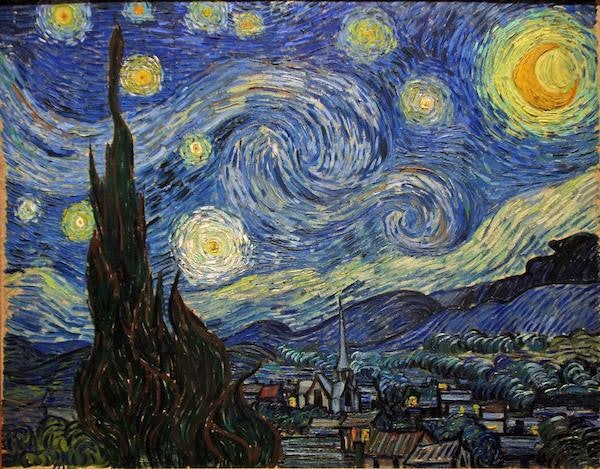 If you wanna look chic and "cultured," don't put up cliche art replicas. You don't need the most expensive and original art pieces to make your home look classy. You just need to pick the right ones. And the right one is not Van Gogh's Starry Night or Da Vinci's Mona Lisa. Try looking for lesser-known ones. Or if you're really into art, support your local artists by buying theirs. Once again, it's better to put your kid's artwork up than tacky cliche art pieces. 
Matching pillows and couch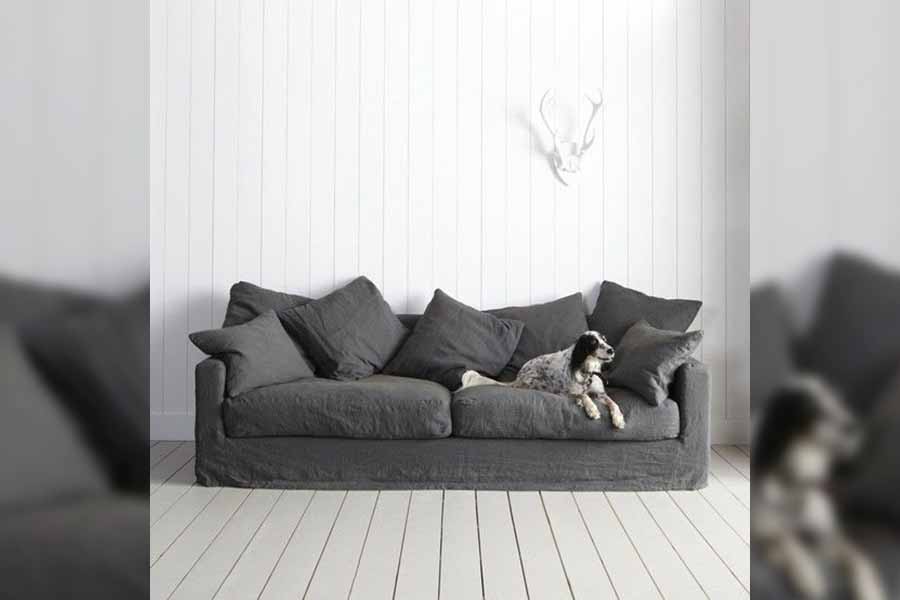 So you think it's cool? That your pillows match the color of your couch? Where's the creativity? Where's the flavor?! Don't be scared to mix and match. Add a splash of color to the room. Bring a little life to the couch. There are more colors available in the color wheel to choose from! 
Matching couch and curtains
Really, what is it with people and matching everything with couches? Having the same fabric used as your curtain and couch makes your living room feel like one big lump. Change things up! Coordinate your couch and curtains but don't stick to one color or design. They should complement each other, not drown each other out. 
Frameless photos
This usually goes with the cheesy framed quotes. And let me tell you again, they don't look as good as you think. This decor is all over Pinterest. And I believe you can pull it off as long as you understand aesthetics. Don't just pick any photo or any wall in your house. Consider the overall look and feel of the photo wall you want. And if you don't have the eye for it, just go and buy some picture frames, please. 
Bold-colored walls]
Your house should be comfortable, not only for guests but especially for you. So don't go around painting it like a fast-food chain. With bright red and yellow walls that hurts your eyes. If you like a colorful home, be careful in picking the right palette. There are so many shades for each color. Some fit in a house while some belong to a diner. Gray, beige, white, earth tones, and other neutrals dominate interior paint colors. Because they're relaxing to look at and are easy to match and play around with. 
Shag carpets
Anyone who has shag carpeting looks like they've been stuck in the 70s. These carpets were the IT thing back then, but not so now. Although it feels good on the feet, it's also very hard to clean. Unless you own a pretty good vacuum cleaner. But if you really love rugs, then just choose the less tacky fur ones. When looking for a carpet, don't go for the super dark or super bright colors. That's the 70s kind. Make your home look more elegant by choosing ash gray, dark gray, white, or beige fur carpets. Also, shag carpeting is not the best idea when you have cats and dogs roaming your house. 
Blanket ladders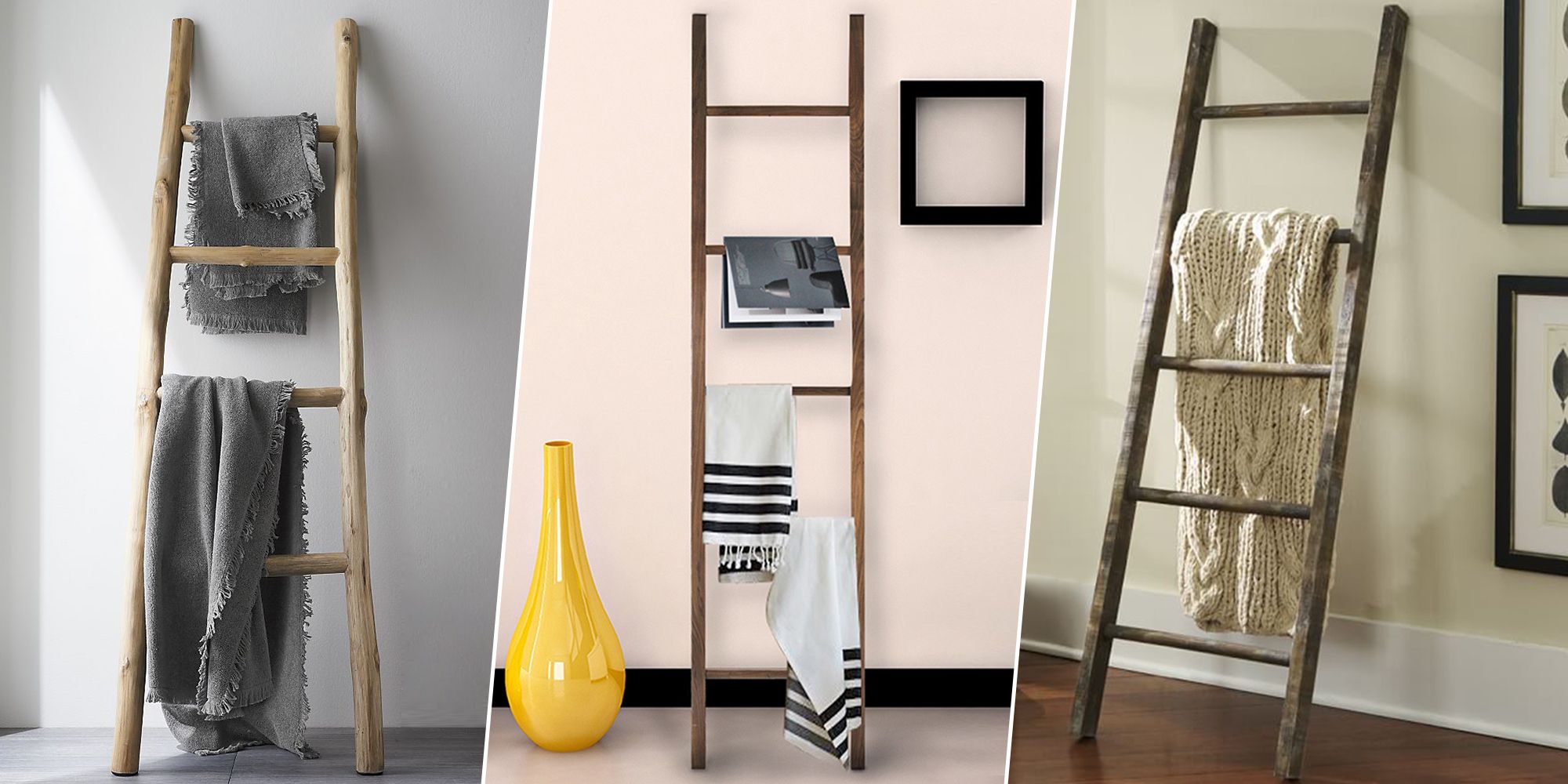 Just like barn doors, this is just plain weird. Buying blanket ladders in Target just makes you a try-hard rustic lover. And why would anyone just hang their blankets in the living room? That's what cabinets are for. 
Bookshelf wallpaper
I say never trust anyone with a bookshelf wallpaper. They're just doing it to look cool. Why put a fake bookshelf wallpaper when you can display your REAL books on your REAL bookshelf? Tell you why. It's because people who have fake bookshelf wallpapers in their homes don't really read books. They're just in it for the ~aesthetic.~
Mounted animal heads 
Unless you shot or hunted them yourself, keep those animal heads out of your walls. Actually, even if you hunt them yourself, you shouldn't hang them up. It's just gross and creepy. You already killed the animal happily running around in his habitat. He deserves a proper burial, at least. 
Wooden mallards
Like hanging animal heads, wooden mallards are so popular. I get it, a lot of people love ducks. But is that enough reason for every American household to have a wooden mallard? If you really love ducks, go feed them in the park. Donate to duck charities. Clean the environment. Don't go around putting wooden mallards in your living room. 
Plastic storage
You shouldn't put storage in your living room in the first place. But if you really don't have enough space, then put them in decorative boxes. Not in cold hard lifeless plastic boxes. It looks like you just moved in and makes the room feel cluttered. Find boxes that complement your living room design. Or if your couch has space underneath, put them in!
Cluttered cables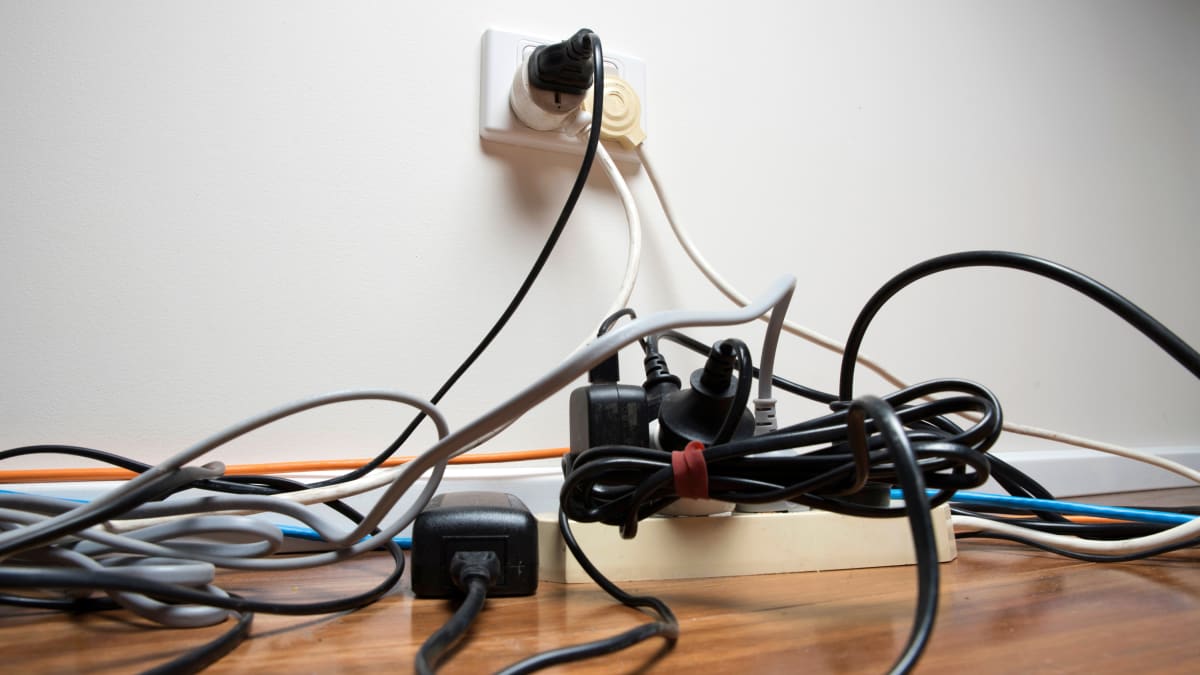 Nobody wants cluttered cables lying around. Not only because it looks messy, but most importantly, for safety. If you have lots of wires interconnected or next to each other, organize them. Keep them in a straight line far from children's reach and out of the walkway. You don't wanna risk getting electrocuted on top of losing your WIFI, right? 
Too much throw pillows
How do you know if you have too much throw pillows? When you can build a fort out of them. I understand throw pillows are cute and could come in handy when there are guests. But that doesn't mean you need to stack your living room with pillows! Just have at least enough pillows for decor and comfort. It's also just a waste of money and linen.  
Gold fixtures
Another thing of the past. Back in the 80s, gold fixtures were all the rage. But today, it's just tacky. Especially when they don't go well with anything else in your living room. 
Weird lamps
Sometimes you want to feel quirky and original so you go ahead and buy some weird lamps. But guess what? They don't make you look so quirky and original as you think. There is a collection of lamp designs you can choose from. So please just don't choose those with different light shades, shapes, or even faces in them. 
Boho tapestry
This was one thing all teenagers have in common at some point. Anywhere you look, every room has a boho tapestry taped to their walls. While it may have looked cute and "boho chic" before, it's over now. Especially when you put them right smack in your living room. Instead of boho feels, you'll just give off fortune teller vibes. 
Dated lampshades
One more thing you need to let go of. Like I said, there are tons of lamp designs available now, so please let lampshades from the 70s rest. Try to use lampshades that complement your living room decor. 
Chintz wallpaper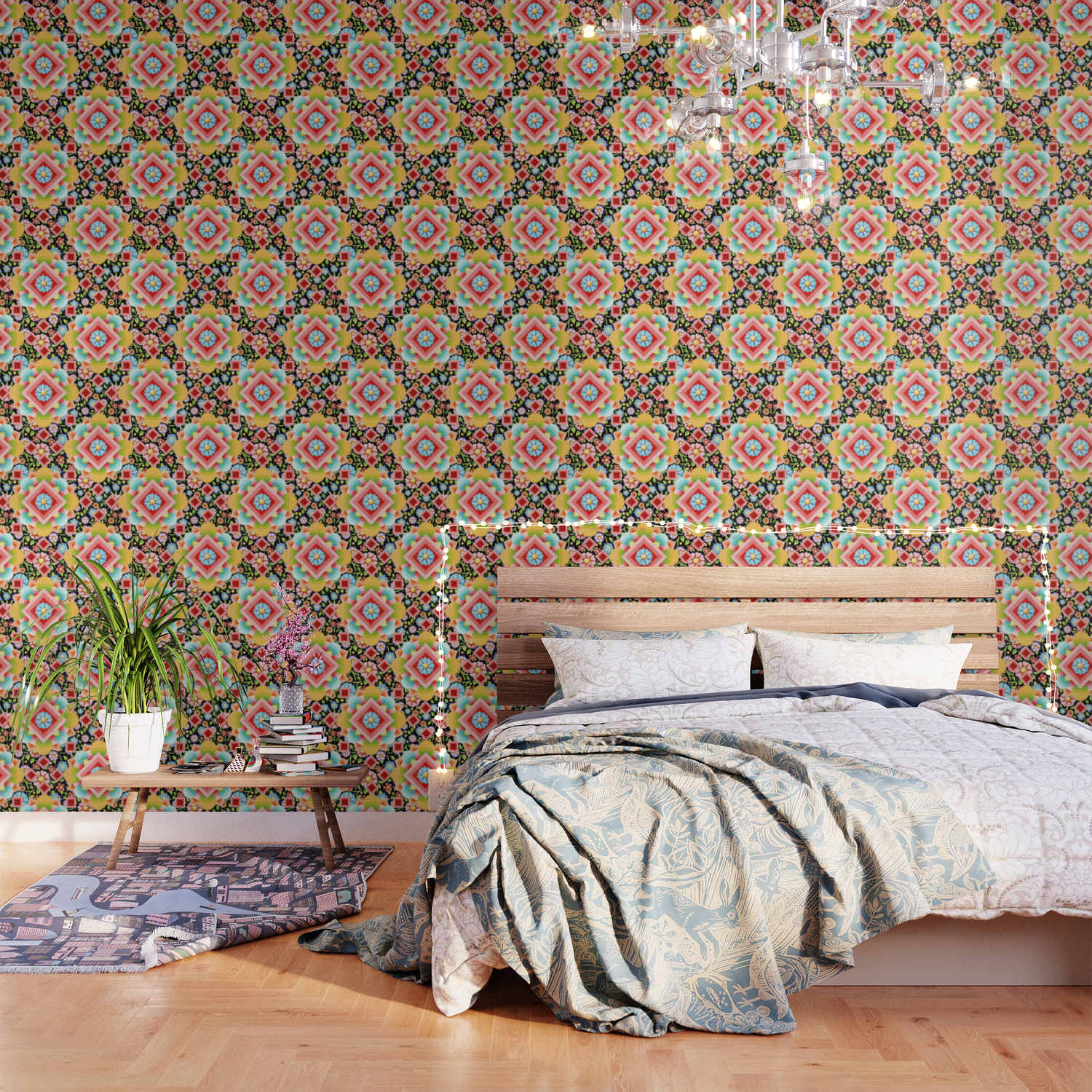 This used to be so popular in England. But unless you're an English-themed bed and breakfast, you don't need this in your home. It's pretty cute with all the flowers and colors but there's too much going on. And you can't really do any other theme with it except for a tea party. It's better to paint your walls. Or if you want a wallpaper, choose more neutral ones that give you room to mix and match your interior. 
Curtainless windows
At first, not hanging curtains on your windows seems like a good way to let natural light come in. But when you finally get them, you'll soon realize your eyes will hurt from the afternoon sun. Plus, not having curtains means no privacy. If you're living on the bottom floor of an apartment complex, people walking by the streets could see you snacking in front of your TV. Or worse, some psychopath starts peeking through your house. Just like on Netflix's You. And we all know what happened to poor curtainless Beck. So put some curtains up! 
Wood paneling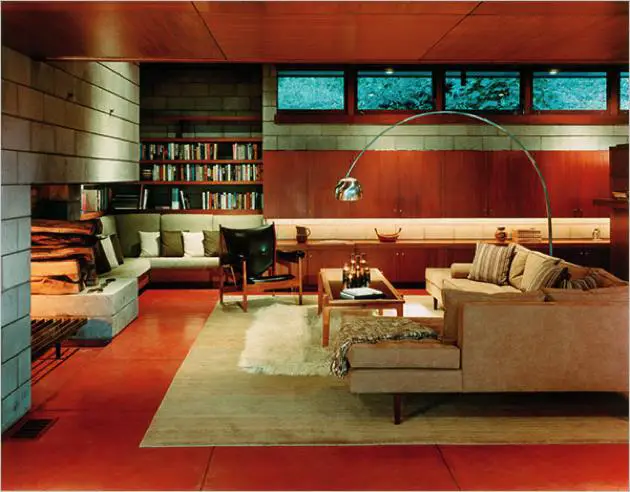 Having a wood paneling in your interior when you have a brick house on the outside just doesn't look good. If you want wood panels, build an actual log cabin. Otherwise, stick to the bricks and stones. 
Patterns out of place 
Maybe you read in a magazine or a blog that mixing up patterns is good when decorating. That's right, but they don't mean just any pattern. You have to make sure the patterns you choose go well with each other. Because if not, it'll just make your living room look like a dump of uncoordinated lines and shapes. 
Big mouth Billy Bass
This one-hit-wonder made its way through every American home when it became one of the most popular gag gifts. What started out as a weird proposal became a nationwide hit. This singing robotic fish has had his days, now the days of hanging it in the living room are over. 
Cheap glass furniture
Glass makes almost anything look more classy. But not all. Not cheap glass tables. You might think they're a bang for your buck until three days later when you notice there's already a crack. Save up for a higher quality glass table! Or better, find better-looking tables that aren't that pricey.
Too small rugs
If you're gonna put a rug under a table, make sure it fits the whole table. Not only half of it. It doesn't look good. In any universe, it doesn't. Some people still put rugs or carpets that are too small for the intended space. And that makes the room feel off-balance. Choose the right sizes of your rugs and carpets. And make sure to cover the entire space needed. 
Empty walls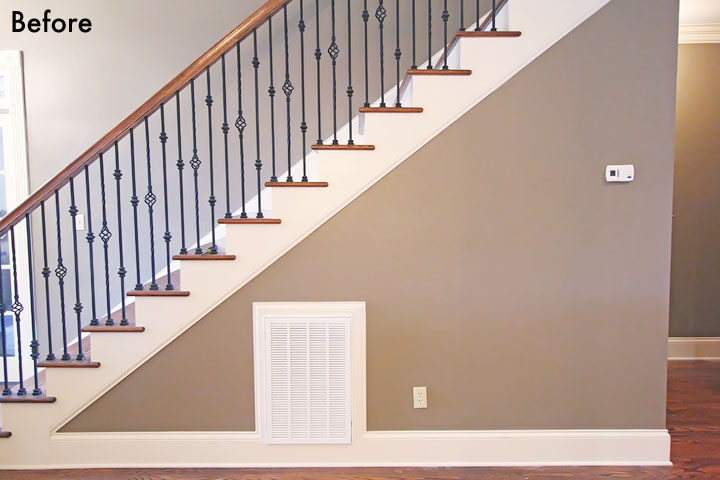 Minimalist decor has been the craze these past few years. And it's good. Saves you space and money. But leaving an entire wall empty is just going too far. You can still add some decor to your walls without breaking the minimalist concept. Check out some tips and blogs about strategically placing photos or art on your walls. 
Tons of displays and knick knacks
A cluttered house is never pleasing to the eyes. Now, what makes a room look cluttered? Dirt, trash, things all over the place, small space, and yes, over-decorations. Some people like to collect items and often place them atop tables in the living room. It's cute but having too much knick knacks makes your place look like a thrift store. 
Furniture sets
Although it saves you time thinking (and maybe some money), buying similar furniture sets to decorate your house doesn't really look that well. Of course, you have to pick furniture that goes well with each other. But you can play around and mix and match. Add some boho vibes to your mid-century living room. That's better than just assembling a generic store-bough furniture set. 
Color-changing lighting
This is one of the newest trends with teenagers on TikTok. Putting LED lights that change colors automatically or sometimes even to the beat. But if you're not a teenager on TikTok, then that means you shouldn't have this in your living room. You're not running a club. You want more relaxing lighting. 
Wall decals with words
Wall decals are pretty good decor. But not when it's word-based. It's just the same as the cheesy quotes. Plus, having word-based decals on your room feels like you're in a kindergarten classroom. Filled with fairytale quotes. Instead of putting overused quotes on your wall, choose something else that can represent yourself or your family better. 
Eclectic and messy 
An eclectic style is all about mixing and matching. But everything goes downhill if you don't have the eye to balance things out. What's supposed to be eclectic and unique will just turn out messy. Choose the right vintage pieces and carpet patterns. Don't have too much fun piling everything you find "eclectic" in one room. 
Royal everything
Some people get so fascinated with the Royal family that they decorate their homes like the Buckingham Palace. But fail terribly. If you wanna get the royal theme, keep in mind to stay classy and elegant. Don't just stack old Victorian couch and decor on top of each other. Otherwise, your room will just look like the Royal clutter room.